Home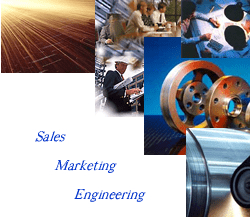 Welcome to Technical Sales and Marketing Group
 
With over Thirty Five years in metalworking applications experience our primary goal is to help make your outsourcing needs an integral and cost effective part of your business plan.
Let TSMG manage your next outsourced project.
Quality products and services meeting and exceeding your expectations. Engineering research and reverse engineering capabilities to document special components.
Project manage manufactured components or fabrication packages for turn-key purchasing. Web based purchasing, inventory management, and marketing systems. Hosted SAS, and Intranet/Internet business applications.
Contact us today at:
Technical Sales and Marketing Group
P.O BOX 3244 Henrico, VA 23228
Phone: (804)218-7438 Fax: (804)562-4441
sales@technicalsalesgroup.com